Super Bowl week is here! Each year, the days leading up to the biggest football match and halftime of the year are filled with seven days of festivities and media events. This year, we pay special tribute to the NFL Owls who have appeared in the NFL playoff games, including Daniel Archibong, EDU '20; Shaun Bradley, EDU '20; Dion Dawkins, CLA '17; Michel Dogbe, KLN '18Tyler Matakevitch, ED '16; and Chris Myarick, FOX '18.
As Owls, giving back to our communities is an important part of who we are and what it means to be Temple Made. From the Temple University grill to the National Football League playgrounds, these owls fulfill the Temple's mission through their commitment to giving back to the communities that matter most to them.
Shaun Bradley, EDU '20
Shaun Bradley, EDU '20, who started as a linebacker for the Owls from 2017-19, returns an interception for a touchdown against the University of Maryland. (Photo by Zamani Feelings)
Shaun Bradley, EDU '20, who just completed his second season as a linebacker for the Philadelphia Eagles, held his first youth football camp in his home community of Mount Holly, New Jersey at Rancocas Valley Regional High School last summer. The Shaun Bradley Community Football Camp was organized for children aged 7-18. Bradley is also a board member of the Eagles' End Philly Gun Violence campaign to address gun violence at the community level in Philadelphia.
Dion Dawkins, CLA '17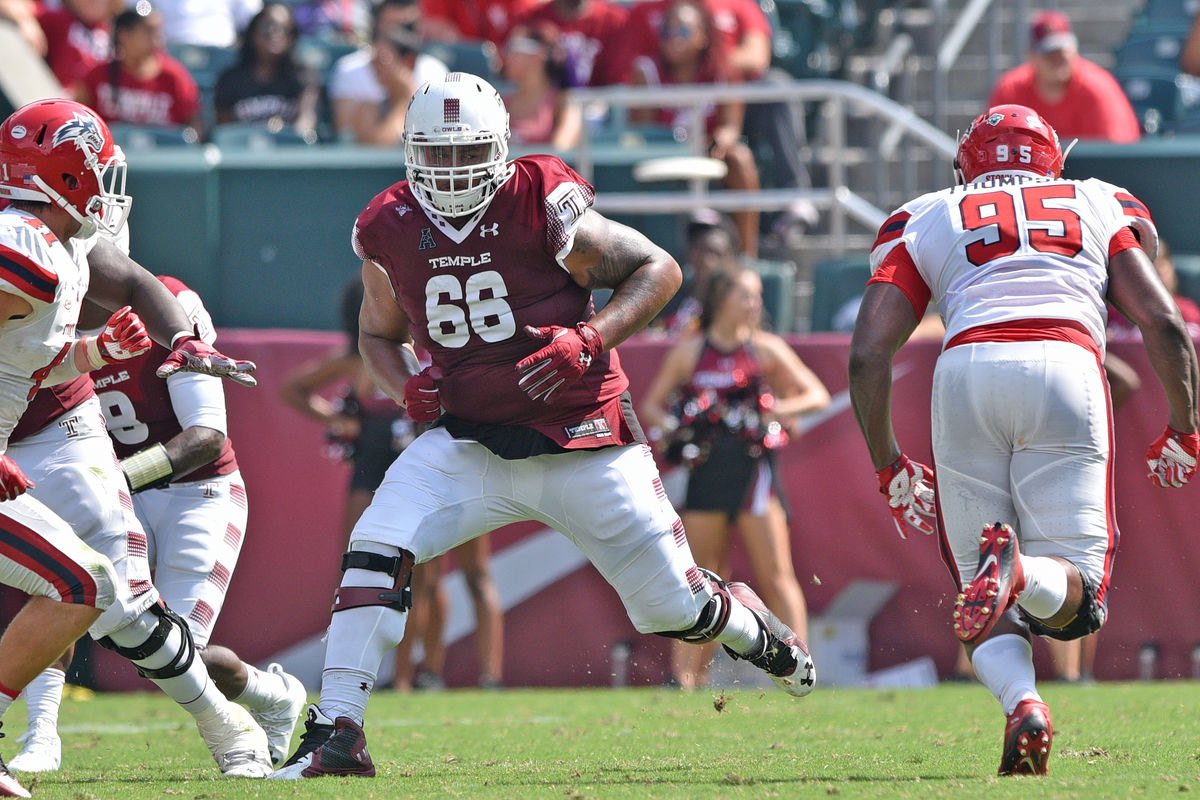 Dion Dawkins, CLA '17, started as a left tackle for the Owls from 2013 to 2016. (Courtesy of Temple Football)
Dion Dawkins, CLA '17, is currently left tackle for the Buffalo Bills and was selected to his first Pro Bowl in the 2021-22 season. When he's not battling in the trenches against NFL defenses to protect All-Pro quarterback Josh Allen's blindside, he's giving back to the community. Dawkins pledged $100 to his foundation, Dion's Dreamers, for every touchdown scored by the Bills offense this season. "Touchdowns For Dreamers" benefits Dion's Dreamers Fund in support of Big Brothers Big Sisters in the Western New York area, including Erie, Niagara and the Southern Tier, to match more children with a mentor. He started his foundation with the goal of providing mentorship and support to members of underserved communities and those experiencing mental, financial or physical challenges.
Jacob Martin, KLN '19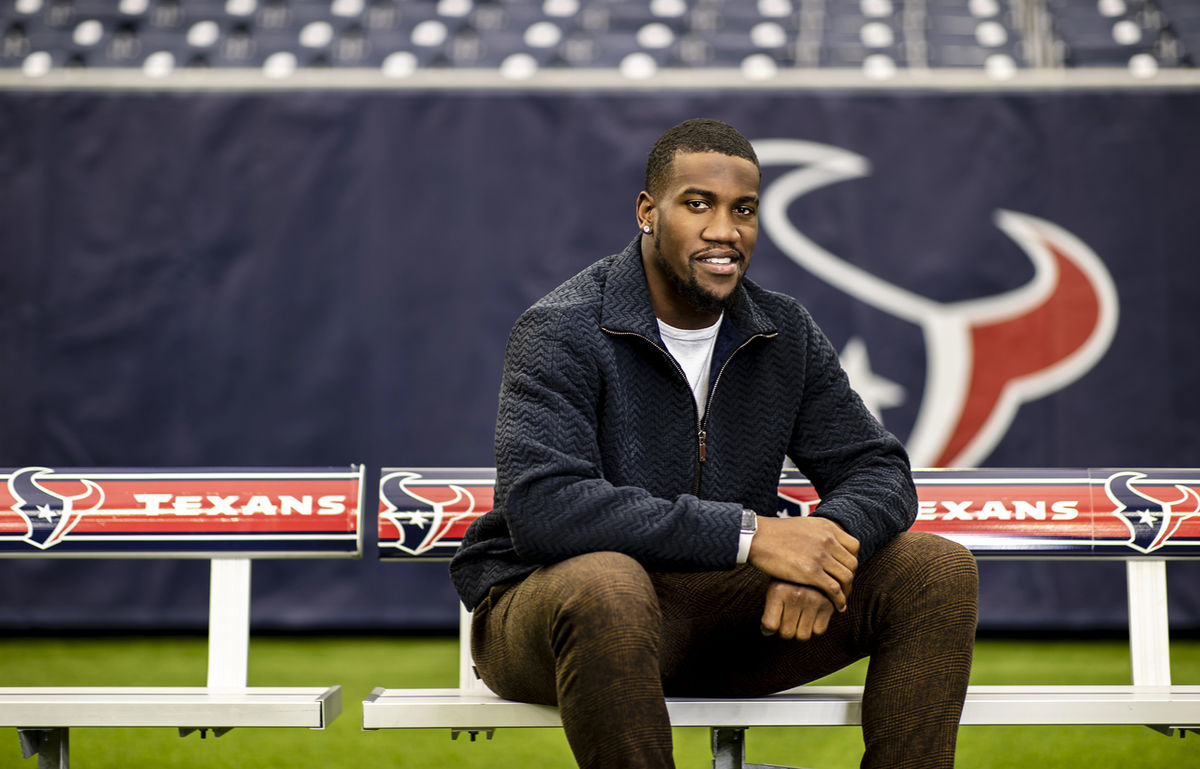 Houston Texans defensive end Jacob Martin, KLN '19 pictured at NRG Stadium. (Photo by Zach Tarrant)
Jacob Martin, KLN '19, is a defensive end for the Houston Texans, who led the Owls in sacks during his tenure. When he's not rushing against opposing NFL quarterbacks, he's giving back to communities. Martin is involved in the Texans' partnership with the Greater Houston Police Activities League for a teen talk about social justice to build relationships between youth and police. In 2021, he also visited children at Texas Children's Hospital virtually to support his hospital pediatric rehabilitation unit. And, he lends his expertise to the newly opened Claire Smith Center for Sports Media at the Klein College of Media and Communication to support students in areas of sports journalism.
Brandon McManus, CST '13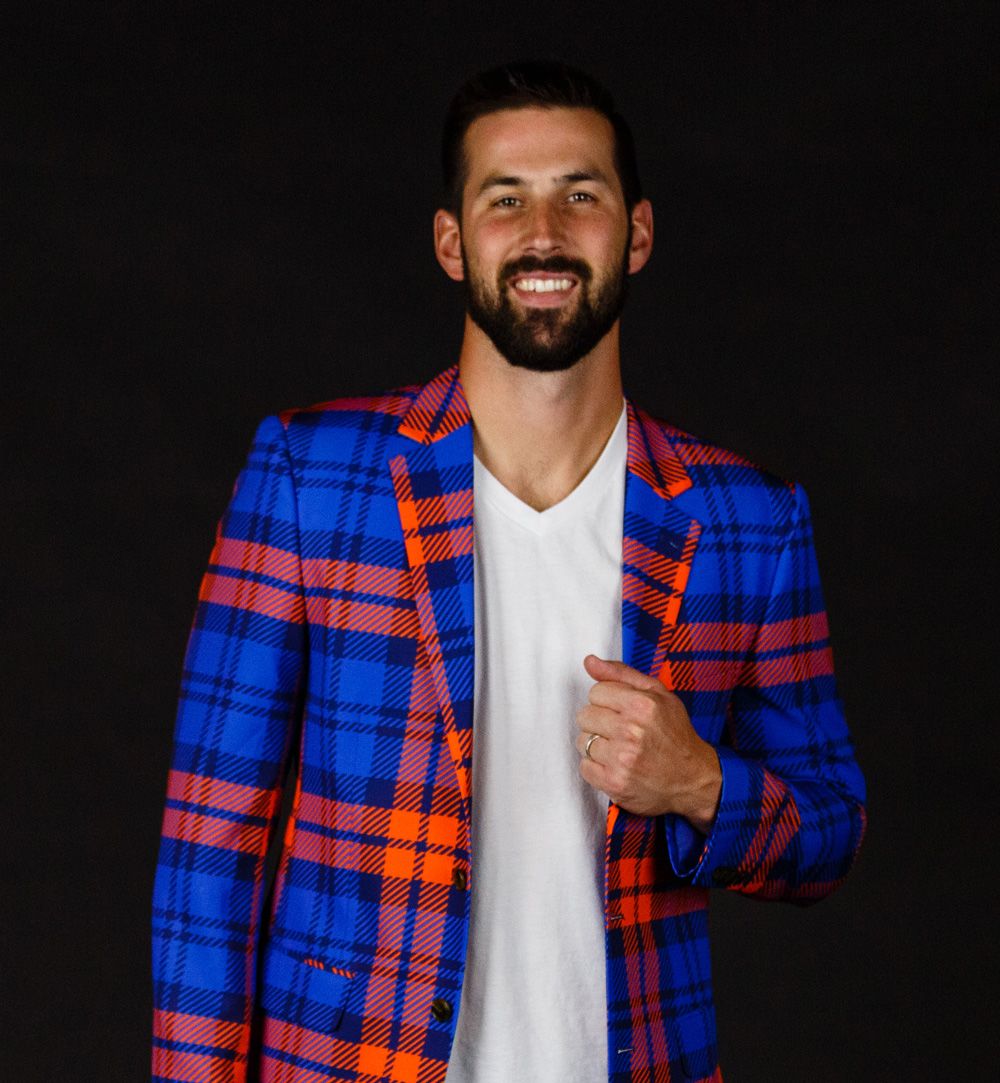 Brandon McManus, CST '13, placekicker for the Denver Broncos launched his clothing line, Project McManus, to end bullying and benefit underprivileged youth in the Denver area. (Courtesy of Brandon McManus)
Brandon McManus, CST '13, is a Super Bowl-winning placekicker for the Denver Broncos, who has a keen sense of fashion. McManus launched her clothing line, Project McManus, with Boulder, Colorado-based Shinesty. He donates all proceeds to benefit disadvantaged youth and fight bullying in Denver communities. In 2021, he was named the NFLPA Community MVP of the Week 15, donating more than $50,000 in resources to Denver families through his 25 Days of Giving campaign. Also a 2009 graduate of North Penn High School in Lansdale, Pennsylvania, he funded $25,000 in projects inspired by North Penn School District staff to help students achieve their goals in all areas of their lives and of their education in 2019.